Manufacturers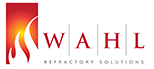 Wahl Refractory Solutions, LLC
767 South State Route 19
Fremont, OH 43420
Phone: (800) 837-WAHL
Fax: (419) 334-2658
www.WahlRef.com
Wahl Refractories was founded by Oscar C. Wahl in 1921. Since then, the company has grown to be a recognized leader in manufacturing of refractory castables, mortars, plastics, and pre-cast shapes. Wahl was the first company to introduce the use of steel fibers in castable with the development of Wire-N-Cast in 1970. Continued research efforts led to the development of the SIFCA® process, a method for producing pre-cast shapes with up to 16 volume percent of steel fibers.

Today, Wahl Refractory Solutions manufactures over 200 brands of high quality refractories for field installations. Compositions include: fireclays, 99% aluminas, spinels, zirconias, fused silicas, silicon carbides and many abrasion resistance and alkaline resistant materials including the latest proprietaryWalMaxXxTM. Wahl is also an industry leader in the production of precast refractory shapes.
In May of 2006 Cornerstone Industrial Group, LLC, a private investment company dedicated to acquiring, owning and managing Midwest industrial companies, acquired Wahl Refractories. Wahl Refractories is now known as Wahl Refractory Solutions, LLC.

Our Refractory Service Group is available to consult contractors to make sure the products are installed correctly. Industries served include aluminum, steel, copper, waste incineration, mineral processing, foundry, and chemicals.

In 1996, Wahl Refractory Solutions was awarded ISO 9001 Certification by the Ceramic Industry Certification Scheme, Stoke-on-Trent, England. This certification culminated months of effort by all Wahl employees and reinforced Wahl's dedication to quality. Since that time, we have become recertified to the current standard (ISO 9001:2000).

Wahl Refractory Solutions does not just sell refractories, we sell solutions. With a highly qualified research and development group, an innovative engineering department and an experienced sales and marketing staff, our experts will find the right solution to your refractory problem.
The mission of Wahl Refractory Solutions is to provide our customers with superior products custom engineered for your demanding applications.
Management:
Stephen D. Cherico, President & CEO
Gilles Mercier, Director of International & MPI Sales
Geoff Perdue, Director of Nonferrous Sales
Angela Rodrigues-Schroer, Director of Research & Development

Plant Locations:
Fremont, OH
Bricks and Shapes:
Precast Shapes
Bulk Refractories:
Castables
Shot Crete
Pumpables
Coatings
Mortars
Castables, Free Flowing
Gunning Mixes
Plastics
Castables, Insulating
Gunning Mixes, Insulating
Ramming Mix
Cement
ABI-CAST
ALRAM-B
COMMAND
COPPERSTONE®
FERROSTONE®
FIBERSTONE®
GEMSTONE®
KY-MUL-BOND
MEGABRIX®
SICON
SIFCA®
SJP CAST
ULTRACON
ULTRAFLOW
WALCAST
WALCOAT
WALCRETE
WALFLOW®
WALFREE
WALMAxXx®
WALPLAS
WIREMAX
WIRE-N-CAST
X-CEL CAST
X-CEL FLOW
X-CEL GUN