Manufacturers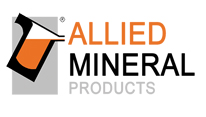 Allied Mineral Products, Inc.
2700 Scioto Parkway
Columbus, OH 43221
Phone: (614) 876-0244
Fax:     (614) 876-0981
Internet: www.alliedmineral.com
Allied Mineral Products, Inc. offers a wide range of monolithic refractories, precast shapes, and technical services for companies in the foundry, aluminum, steel, cement, power, minerals processing, boiler, and heat treating and forging markets.
MINRO-SIL® (silica), MINRO-AL® RAM (alumina), and DRI-VIBE® for coreless induction furnace working linings, channel induction furnace inductors, as well as channel induction furnace throat and uppercase linings. Formulations are available for melting all grades of iron, steel, copper, and aluminum. Also used as working and safety linings in blast furnace troughs and runners.
MINRO-AL® PLASTIC, PLASTER, and PATCH for coreless and channel furnace applications.
V-CAST® for channel and pressure pour furnace uppercases and throats, as well as launders, ladles, covers, and tundishes for all metal applications. Also used as a working lining, normally backed by DRI-VIBE® safety linings, in blast furnace and cupola troughs and runners.
L-CAST® for channel and pressure pour furnace inductors, uppercases, and throats, and miscellaneous other molten metal applications.
T-COAT® trowelling and gunning refractories for insulative coating of troughs, ladles, and other unheated holding vessels.
DRI-VIBE® FR is patented refractory technology for zinc and galvalume melting and coating pots inductors as well as aluminum induction melting.
MATRICAST TUFFLOOR family of heat resistant flooring for all types of intermittent molten metal contact and processing equipment contact at temperatures up to 3000°F (1650°C). It is also extremely resistant to mechanical abuse and offers quick turnaround time on installations.
DRI-LITE®, MATRICAST, MATRIFLO, MATRIPUMP, MATRIGUN, QUICK-FIRE®,  QUICK CAST®, and MATRILITE Castables provide successful aluminum campaigns.  Patching and repair can be accomplished with QUICK-FIRE® and QUICK-STICK®, or MATRIGUN gunning mixes.
CW OMEGA PLASTIC, CW ALPHA RAM, TEK-PAK, and STACKCRETE® provide reliable, consistent performance in cupola melting applications. Our DURAMELTZ® engineered lining systems offer new technology to significantly enhance operating efficiencies.
ARMORMAX® proven results in jambs, lintels, sills and pierblocks. Can be used for heat treating and industrial applications.
DURACON®, TUFFCRETE®, TUFF-FLO, TUFF-GUN®, FAST-TURN®, ULTRACON, ULTRAFLOW, Castables, shotcrete, and gunning mixes provide consistent quality solutions for many industrial applications. Also available--an extensive line of other plastics, plasters, patches, washes, ramming, gunning, and grouting mixes.
Plant Locations:
Anniston, Alabama
Chehalis, Washington
Columbus, Ohio
Brownsville, Texas
Poços de Caldas, Brazil
Tianjin, China
Foshan, China
Ahmedabad, India
Tholen, The Netherlands
Johannesburg, South Africa
Lampa, Chile
Yelabuga, Tatarstan Republic, Russia
Research and Laboratory Locations:
Columbus, OH
Tianjin, China
Sales Locations: Our dedicated 130+ sales representatives around the globe help customers achieve the best refractory solutions for their applications. From purchasing to end of service life, our sales team offers a superior level of support.                                                            
---
Types of Products:
Bulk Refractories:
Aggregate, Insulating
Castables
Castables, Free Flowing
Castables, Insulating
Castables, Self Flowing
Castables, Shotcreting
Castables, Vibratable
Cement
Coatings
Dry Vibratables
Extra High Alumina
Fireclay
Grouts
Gunning Mixes
Gunning Mixes, Insulating
High Alumina
Low Cement Castables
Magnesia
Mortars
Plasters
Plastics
Ramming Mixes
Silica
Silicon Carbide
Tundish Dry Vibratable
Tundish Sprays
Vibratables
Zircon


---
TRADEMARKS/BRAND NAMES:
ARMORMAX®
ARMORGUN®
DRI-LITE®
DRI-VIBE®
DURACON®
DURAGUN®
FAST-TURN®
FLO-PRO®
FREE KAST®
GUNCAST®
INSULMIX®
L-CAST®
LADLE-LITE®
LADLE VIBE®
MATRIFIRE®
METAL-ROK®
MINRO-AL®
MINRO-SIL®
2001 MINRO-SIL®
2001 LD MINRO-SIL®
QUICK CAST®
QUICK-FIRE®
QUICK-STICK®
STACKCETE®
TUFFCRETE®
TUFF-GUN®
T-COAT®
V-CAST®
X-ACT®